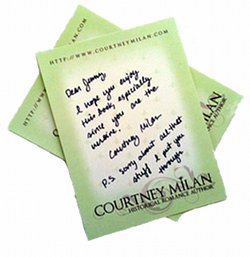 What is a bookplate?
Bookplates are stickers that can be signed by the author, sent in a letter, and applied to the front of a book—without any need to mail the book back and forth, or hunt down the author at a booksigning. This makes it easy for you to get your copy of your Courtney Milan book personalized, even if you can't come see me in person at a booksigning.
The best part is, they're free! Sadly, shipping costs require me to restrict this offer to the following countries: US, Canada, Australia, and New Zealand. Please allow two to three weeks for delivery.
How do I get bookplates?
If you live in the US/Canada, you only need to fill out this form: