So, I've seen my cover for PROOF BY SEDUCTION, and it is lovely. But I'm not sure if I can show it to anyone yet.
In any event, since I am still waiting for the go-ahead, I thought I would share one of the things I loved about this cover with you: The font they used for the title.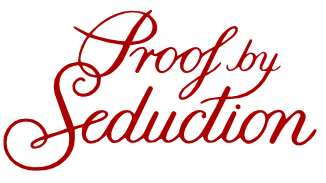 Isn't that gorgeous?  Okay, the title isn't in red on the cover of my book; it's in white (the rest of the cover is a fairly rich purple).  But I had to make it red here, just for fun.
I love it!  The rest of the cover is even better (including, um, the part that is most interesting to me and least interesting to you, namely, my name).  But I'll have to wait to post it until I get the official go-ahead.
For now, you'll just have to believe that the rest of the cover is as gorgeous as the title.  🙂