Many of you know that I am Tessa Dare's biggest fangirl.  (And no, I am not referring to my weight.)
It's been hugely exciting for me to watch everyone fall in love with her, starting with the agents who wanted her, to the auction that ensued when Goddess of the Hunt went on submission.  Now her book is only slightly more than one month away from release, and reviews are beginning to show up.  In the last week, I've seen reviews from the two major print sources that review romances.
Library Journal gave Goddess of the Hunt a coveted starred review, and said: "This is an exceptional debut novel, from the first hilarious "practice" session to the gradual melting of Jem's outward reserve and Lucy's maturing realization of whom she really loves. VERDICT A beautifully crafted tale that captivates with sassy wit, a lush, sweetly intense sensuality, and an abundance of beautifully articulated, appealing characters."
And today, Publisher's Weekly chimed in.  It also gave Goddess of the Hunt a coveted starred review: "Dare seems to have fit all the best of romance into one novel, from sensuous interludes and crafty humor to endearing multidimensional characters. Readers will eagerly anticipate the two sequels due in the fall."
Now, you may notice that I've referred to both those reviews as "coveted." But let's face it.  What's really coveted isn't the review.  What you are coveting right now is . . . an early copy.  Oh yes, those are coveted.  But, you say, ARCs were few and far between.  Tessa gave away her last ARCs on Dear Author; and auctioned one off for charity for a fairly hefty sum.  There are no more ARCs to be had.
Except . . . what's this?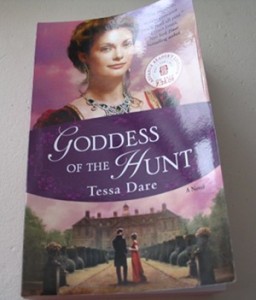 Oh, my.  That would be . . . an ARC. Of Goddess of the Hunt.  In my hot, greedy, cunning little hands.
Tell me, do you covet it?  Yes?  Well, one of you will get it.  Here's what you need to do to win a chance to get the last Goddess standing.
Post on your blog, or post a tweet, about Tessa Dare's Goddess of the Hunt.

Post a comment on this blog post, with a link to your blog.  If you are entering a tweet, mark your tweet with the hashtag "#goth" to enter and make sure to reference the author of GOTH by including @TessaDare.

Enter by Thursday, June 25th, at 6 PM EST to win.


One winner will be chosen by random drawing to receive the truly coveted ARC of Goddess of the Hunt.  Two other winners will be chosen, also by random drawing, to receive slightly less-coveted proof copies of "The Dangerous Book of Excerpts."  "The Dangerous Book of Excerpts" contains an excerpt of Goddess of the Hunt (longer than the one on Tessa's website), an excerpt from Surrender of a Siren (longer than the one on her website, which is nonexistent).  It also contains excerpts from my own works, but pshaw; those are not coveted at all!  These exhibit some signs of wear and even have scribblings in them, as they really were used as proofs.
Enjoy! Covet! And spread the word–Goddess of the Hunt managed to "fit all the best of romance into one novel."  And that is something to talk about.
Edited to add: Romantic Times comes in with a 4 1/2 star review and a TOP pick!  "Dare is on the path to stardom….  Dare uses wit and wisdom, humor and sensuality to relate a tale of tangled love that reveals her ability to touch hearts with her appealing characters."