So, it is March 1st, and not only does that mean that courtneymilan.com is yellow, but it also means that I was supposed to tell all of you that if you live in Australia or New Zealand (and even if you do not!) you can get your hands on a copy of Proof by Seduction in gorgeous trade paperback, from Mira Australia. On the cover, they've zoomed in on the model's face, so it's slightly different than the US version.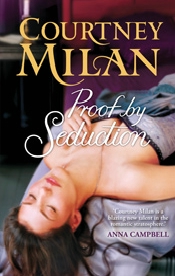 Plus, the first of my local versions of courtneymilan.com is now live. Check out my tiny website, just for Australians and New Zealanders! There will be more of these–for people who live in places other than Australia and New Zealand.
What do you think of the modified cover? What do you think of the Australia site? And how should I start placing the "local" sites within courtneymilan.com? It's a daunting task–there will need to be several languages, and I'm trying to place flags without it looking terribly busy….