I am in the very, very tentative stages of writing my fourth book. As in, I am working on the second scene as we speak. (I have written more than that, but I am going back to the second scene and adding in detail.)
This book is taking place in a tiny village in England. It is not some made-up hamlet; it is an actual village. In any event, the hero–who was born in this tiny village, but who has been surrounded by the hubbub of London and other, louder places for the last two decades–is standing in the middle of the Market Place, and observing to himself that nothing has changed. Part of his observation includes him making a mental wager with himself that the market stalls–big heavy benches made of wood, with tile roofs overhead–haven't changed since medieval times.
Of course, we know that everything is about to change for him, when the heroine, who is very new, swans by.
But I wrote this line about the market stalls being medieval and then stopped. You see, to a modern reader–and especially to a modern American reader–I'm afraid that will come off as unbelievable at worst, or weird hyperbole at best. That's because we are used to impermanence. Old houses are houses from the 1900s–maybe dating from the 1860s. There are old houses. Maybe, we understand old houses.
But market stalls? Those are flimsy things that get erected and then torn down the next day. They aren't made to last ten years, let alone a hundred. It doesn't make sense to a modern reader to have market stalls that have been there since medieval times.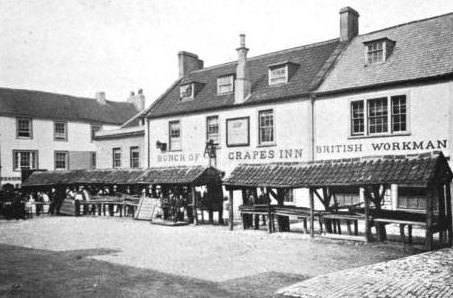 But, in point of fact, these market stalls did date from medieval times. The medieval stalls were in use up until at least the early 1900s. Think about that: four hundred and fifty years of using the same market stalls.
My hero would have no way of actually dating the stalls. He's not an expert in medieval construction. He can't say "these date from the 1450s," and it would be awkward authorial intervention if he did.
I thought about sliding this under the rug so it turns into "much older than I am" rather than "medieval stalls still in use." But I think that the "medieval stalls still in use on a biweekly basis" captures the character of how slowly this little town changes in a way that "old" simply doesn't. My heroine is not just jolting my hero out of his ways; she is unmooring him from traditions that are literally centuries old. Those centuries matter to the story, and the whole point (well, one of the whole points) of setting it in this village is to give my hero's inertia mass.
And so my job as an author is to convey the reader into that moment, to make the reality feel natural instead of awkward. My job as an author is to make  the modern reader forget that she lives in a world where the things that she uses will be relegated to the junk heap after three or four years. My job as an author is to make the reader forget about a world that is IKEA-disposable–and to do it all so quietly that she doesn't even notice it's happening.
I do not yet know how to do this. Maybe I will figure it out before I reach the end of the book.