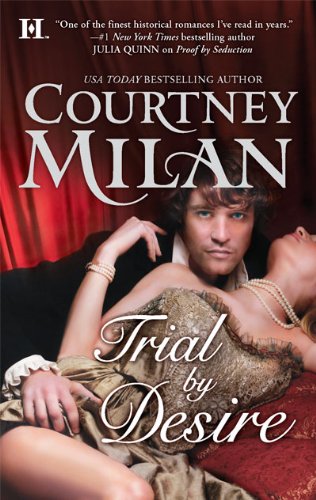 Okay. I haven't really talked about the problem with my book cover much on this blog, because, you know, you never want to insult anyone.
But…take a look at this cover. No, really. Take a very close look at it, and you'll see exactly what I mean.
Do you see it yet? Hot guy, check. Provocative pose, check. Indication that characters might, in fact, enjoy themselves at some point during the course book? Check. Intimation that the characters might, in fact, engage in some kind of hanky-panky during the course of the book? Check, check, check.
Now that I've pointed out all these undesirable characteristics, no doubt you've caught on to the difficulty I'm having with this book. It's one that Lisa Solod Warren over at the Huffington Post would recognize in an instant.
The answer is really kind of frightening, and so I have to whisper. Lean very, very close to the monitor.
This looks like a book that you would read for pleasure.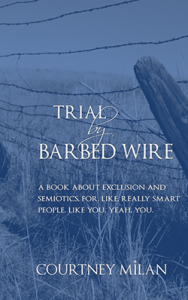 The horror! The horror! Now, truthfully, I can't deny the claim. Yes, I admit. There are parts that are intended to be funny. And if you press me, I have to admit that there are parts that are supposed to be hot. My hero and heroine…touch each other. For the purpose of giving pleasure. And, even worse: it works at the time. There's even a happy ending. Animals do not grace its pages for the sheer purpose of killing them in a heart-rending moment at the end. Children do not succumb to mysterious illnesses in the final pages.
And so we all know what that means: this book is meaningless drivel, and anyone who sees you reading it will judge you accordingly.
Luckily, I am a writer of fiction, and so I've decided to come up with an alternate cover for this book. Just as I did for Proof by Seduction, I've created a printable book cover that will convince anyone who takes their reading selections solely from the New York Times book review section that you, yes you, are a brilliant person.
Trial by Desire? Pah. Smart people don't have desires. They certainly don't feel anything below the waist–at least, not anything good. Let's face it. If you want to be smart, you can't admit to desire. That's why my cover repurposes itself as "Trial by Barbed Wire." Please note the subtitle. This is not a book about love or desire. It's a book about exclusion and semiotics.
But, of course, one can't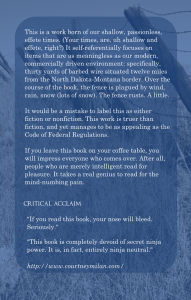 judge a book by its front cover. That would just be gauche. One must see the back cover copy, too.
(You might need to click on the graphic to read what it says.)
But there you have it, in plain black–er, blue–and white: People who are merely intelligent read for pleasure. But you'd have to be a real genius to read for the mind-numbing pain.
(and for those of you who are following along at home, the sarcasm tag goes off…now.)
If you would like to win a copy of Trial by Barbed Wire, just let me know in the comments section by Wednesday. One lucky person will get the recovered-Trial by Desire. And if you want to download and print your very own personal book cover, so that you, too, can impress random people on the subway, the file is here. Directions on how to use it are here.
Enjoy!