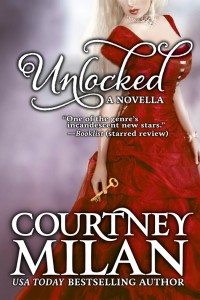 Yes, Unlocked.
You are wondering: What is Unlocked? Well, I know that a lot of people were worried that the wait between Unveiled (Ash's book) and Unclaimed (Mark's book) was so long–February of 2011 to October of 2011. And I was with you–I hate having to wait eight months between releases.
So I decided to offer you a helping hand. Unlocked is a novella. It's about as long as This Wicked Gift (for those who read that)–28,000 words, about 111 pages total. It's set in the broad world of the Turners, but it stands alone. You don't have to have read Unveiled to read it, and if you don't read it, you won't notice when you read Unveiled and Unclaimed.
It's about Lady Elaine Warren, a minor character in Unveiled, and one who I wanted to have her own story and resolution.
Here's the official blurb:
A perpetual wallflower destined for spinsterhood, Lady Elaine Warren is resigned to her position in society. So when Evan Carlton, the powerful, popular Earl of Westfeld, singles her out upon his return to England, she knows what it means. Her former tormenter is up to his old tricks, and she's his intended victim. This time, though, the earl is going to discover that wallflowers can fight back.
Evan has come to regret his cruel, callow past. At first, he only wants to make up for past wrongs. But when Elaine throws his initial apology in his face, he finds himself wanting more. And this time, what torments him might be love…
You can get it from Amazon, All Romance eBooks, and Goodreads for 99 cents ($1 at Goodreads–they won't allow charges under $1.) Eventually, it will be available at Barnes & Noble, Apple, Smashwords, kobo, and everywhere else I can get it; some of the other venues will take a little more time. (In particular, Barnes & Noble put my account in review, told me that they sent me an e-mail explaining why, and hasn't yet answered the e-mail I sent saying I'd never got the e-mail. Grr.)

You can get just about any format you want for your device of choice at All Romance eBooks, though, and for the remainder of today they're offering a 50% rebate on everything in their store–that means you can get Unlocked for effectively 50 cents.
Read an excerpt here, and enjoy!
In any event, there's more to this story than a 99 cent novella to tide you over between books. I'll get to that.
Tomorrow.