So, The Duchess War went up against Tessa Dare's A Lady by Midnight. The battle was hard-fought.
How hard fought was the battle? I will let the following screenshots speak for themselves.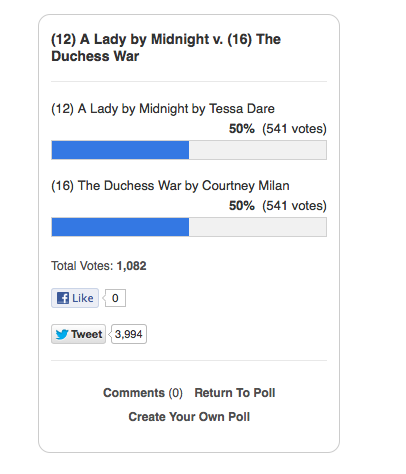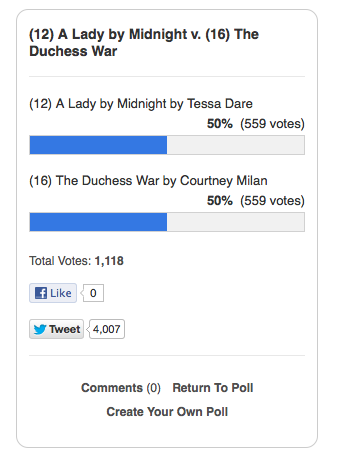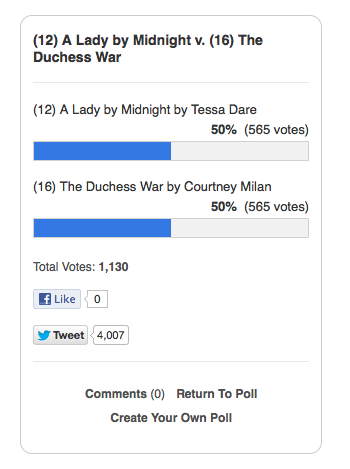 Sometimes The Duchess War was up. Sometimes A Lady by Midnight was up. Often, the two books were tied.
But at the end, alas….

So there you are. We fought well, but we were bested at the last.
Luckily, The Governess Affair went up against Ruthie Knox's Room at the Inn and managed to prevail.
This means, first of all, that I owe you all the first chapter from my first manuscript. I made one change to this manuscript–specifically, I did a find and replace on the hero's name, because I've used that name on a book that I published (hey, I liked the name, and I borrowed characteristics from the hero for that other book) and I want to avoid confusion.
So here is Chapter One of Flight of Fancy. Read it and weep. Or something.
Secondly, this means that there still is an opportunity to vanquish Tessa (and many other fine writers!). But in order to do that, The Governess Affair must prevail against all comers.
I know that there were multiple people who were disappointed that they wouldn't be able to read the lovely scene I promised detailing Minnie's aunts giving her "the talk." Many of them were, in fact, extremely disappointed, especially once I posted this tiny snippet (brings up a graphic: warning, not safe for work).
And so this scene is still available as a bribe. Defeat Tammara Webber's Easy in tomorrow's roundup, and it will be posted.
Voting will be open from midnight to noon, CST.
Remember, anything that has an IP address can vote–phones, iPads, computers at work, the library, every Starbucks.