Trigger warning for racism.
I've talked before about how I make covers for my books.
http://courtneymilan.tumblr.com/post/73371595545/where-do-your-covers-come-from-the-images-models
The basic idea is this: (1) I go on stock photo websites, (2) find pictures of women in wedding dresses, and (3) modify the dresses in photo editing software. Voila, a cover.
The most time-consuming step in this process is (2)–finding a photo that will make a good underlying cover. It's not easy. You need someone who doesn't have a silly expression on her face, whose pose is interesting and makes the viewer wonder about her. She should match the description of the heroine in the book. If I'm doing a series, the pose needs to match what I'm doing for the other books in the series. Since these are wedding-oriented, I have to discard a good portion of them because the women are wearing or holding things that are incompatible with a book cover photo–things like veils or massive bouquets. I have to look through about 500 or 600 photos for every usable picture I find.
Luckily, there are tons of pictures of women in wedding dresses on stock photo sites. These are very often pictures that are designed for women to look at, because everyone wants to sell a bride something. The dresses are beautiful. The lighting is often just a little ethereal, which is great for a historical romance cover. And the photos are all taken with a certain view in mind: to send women the message that they are beautiful, that they deserve to look pretty and deserve to be happy. (We can talk about the bridal industry and beauty standards and all that jazz…but not today.)
Even with that said, it probably takes me 2 or 3 hours to find a good photo. This is something I do at night, when I'm too tired to do more taxing work. It's relaxing to just thumb through photos.
Or it was until I started looking for photos of black women.
There are 107,151 pictures tagged "bride" on shutterstock.com for all ethnicities. (If you don't add "all ethnicities" on there, you get substantially more photos–but I'm not going for exact statistics here, just a hand-wavy feel of things.)
You can also search by ethnicity (assuming the photos are properly categorized in the system).
Here's the breakdown (and, no I didn't make up these ethnicities, so let's not try to parse this too much):
African: 57
African American: 444
Black: 222
Brazilian: 2
Chinese: 1,783
Caucasian: 77,536
East Asian: 2,704
Hispanic (Latin): 1,572
Japanese: 1,592
Middle Eastern: 1,235
Native American: 41
Pacific Islander: 102
South Asian: 1,614
Southeast Asian: 2,077
Other: 3,484 (Not scientific, but at a first guess, many of the brides in the "other" category appear to be white.)
Of course, there is some overlap between these categories. Some photos show up in both the "African American" and the "Black" ethnicity tag. And as you might imagine, some photos are tagged as all possible asian ethnicities. But you can see what I'm driving at. 107,151 photos of brides on shutterstock, and less than 723 of them are of black women. That's 0.6% of all the available photos, and that percentage looks even worse when you remember that shutterstock is a global site, and many of the contributors are not from the US.
That disproportion is troubling.
But let's talk about the kind of photos you can find on shutterstock.
Some of the photos are absolutely lovely.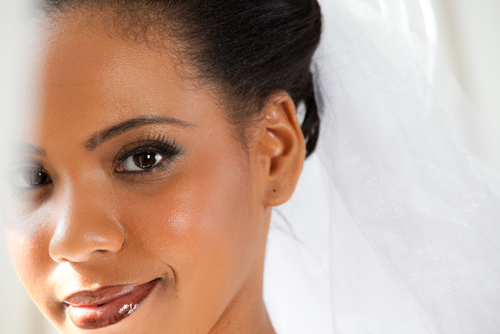 Attribution: Deborah Kolb, shutterstock.com
Like this. (I used a picture of the same model, different pose, on the cover for Talk Sweetly to Me.)
So don't get me wrong–there are adorable pictures up there, and yay for that! But there are a lot fewer pictures over all than you'd expect from population proportions. And while 0.6% of the photos of brides are black, the pictures of black brides are disproportionately less likely to be ethereal pictures of beautiful women.
There are more photos like this, where you can't actually see faces.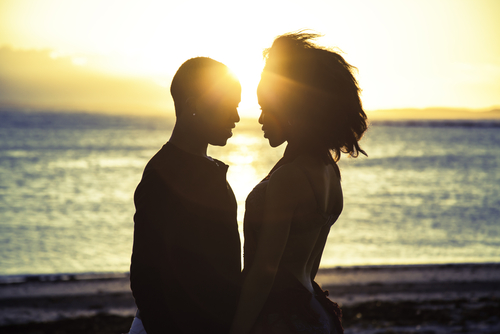 attribution: John Warner, shutterstock.com
Those are relatively innocuous.
There are also more photos that look like this: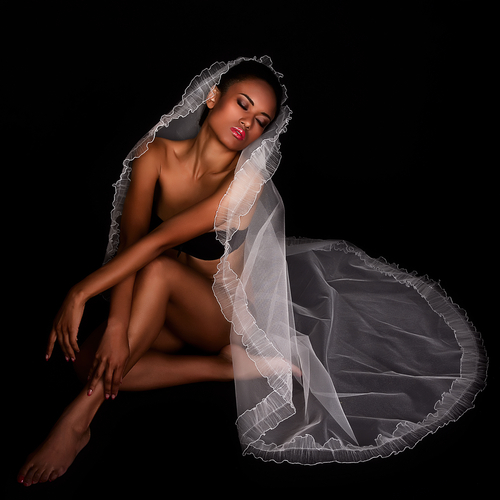 Attribution: nostalgi1@mail.ru | shutterstock.com
Don't get me wrong. She's beautiful. But she is also wearing substantially less clothing than your average woman who walks down the aisle. This is not a photo that is designed to make a woman think about the joy of looking beautiful on the special day when she gets married to the man of her dreams; this is a photo that's designed to attract the male gaze.
And then there are photos of black women wearing wedding dresses that have no counterpart in all the 77,000+ photos for white women. I'm talking about this: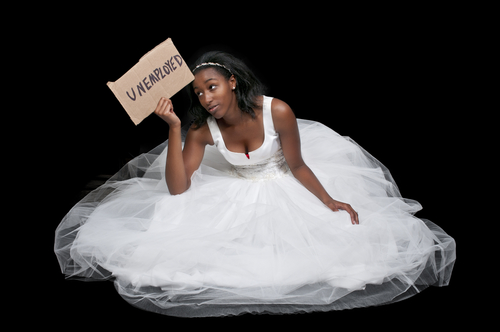 Attribution: Rob Byron | shutterstock.com
I do not have enough NO in the world for this. Fuck this shit.
Even if that last image did not exist (and it does), it doesn't change the fact that there are disproportionately fewer pictures of black women in wedding dresses, and a smaller percentage of that tiny number intend to send the message that black women deserve to look beautiful and be happy.
And that's horse shit, plain and simple.