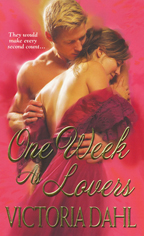 Today is a very special holiday.  It is "Buy a Book Written by Victoria Dahl" Day!  Now, as you know, most of the time it is "Buy a Book Written by Courtney" day, but that's difficult to celebrate, as the best you can do is preorder a novella written by Courtney, and that just lacks a certain euphonious ring.
But today, you need to stop whatever you are doing and run to the store (or to the online outlet, whatever) and get yourself a copy of One Week As Lovers.
I've been a big fan of Victoria Dahl since her very first book, but her latest historical is probably my favorite.  There are two reasons why this book works so very, very well for me.
1. Cynthia.  Cynthia is a survivor.  I say this in the best possible way, because she's had a lot to survive.  She is such a survivor, that rather than marry an abusive man, she's faked her own death, and has plans to disappear and go to America.
2. Lancaster.  Lancaster is also a survivor, and again, in the best possible way.  He has what seems like a pleasant, laidback, sunny, unspoiled disposition–and that is all hiding one of the most tortured heroes I've seen in a romance novel.
This is a fantastic novel that mixes playfulness and humor with dark emotional complexity.  There were times when I wanted to reach into the book and take Lancaster out to keep him safe.  And even though Lancaster has survived by adopting a pleasant, sunny disposition, he has no favors done to him in the course of this book, and he is pushed and pushed until you find out every last heroic thing he's capable of.
As shattered as these two were, the reason I believed in their happiness so strongly was because Victoria Dahl made me believe in their shared joy.  I love this book, and I hope you will, too.
I'm giving a copy of ONE WEEK AS LOVERS away to one lucky person who comments on this entry.  The winner will be drawn at random from all the commenters.