Yesterday was a very exciting day for me.
First, I got an e-mail containing the cover for Proof by Seduction. I know; I already have posted a cover for PROOF. But this was the final cover.  So let's do that comparison thing again: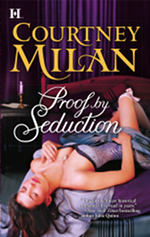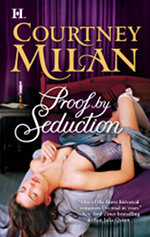 Wow. Look how different they are!  It's like, they changed the alignment of the Julia Quinn quote.  But what you do have, attached to this, is a much larger version of the cover. And now you can finally see how that locket actually stays up: my heroine does, in fact, defy gravity.  (Needless to say, this ability of hers drives my scientifically-minded hero completely mad).
BUT in any event, yesterday I also got my very first author copies.  With my name on them.  Admittedly, my name is underneath "Mary Balogh" and "Nicola Cornick."  Still, it is there!  My husband opened it up and began reading, making snide commentary which totally didn't help matters at all (even though it was funny).  Naturally, I did what all authors do when they receive their author copies: I built a fortress.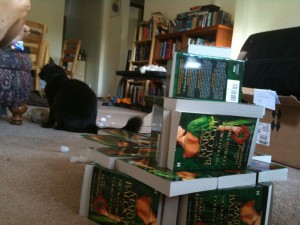 Notice the large black beast in the wild . . . uh, wild tan carpeted yonder. That foul beastie is about to come and breathe a hurricane gale upon my author copies, causing my impenetrable fortress to collapse into a sad pile of books. Which makes it a not very impenetrable fortress.  (But then again, I don't suppose I would have much luck writing a romance novella that had no penetration, so it's probably all for the best. Good cat.)
This was more than enough excitement for me, so I shall have to share it with you! One of the commenters to this post will win a copy of the anthology.