So! My book is off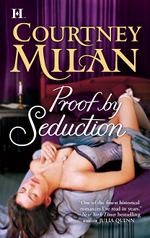 icially coming out tomorrow, and before it does so, I have a very important public service announcement.
You see, I have had very mixed reactions to the cover for Proof by Seduction. People either love it, or they are completely embarrassed by it. On the one hand, I've had a lot of people tell me that it is gorgeous, elegant, beautiful, sexy, and classy. And it is! See? Love that corset. On the other hand, I've had a handful of people e-mail me to say, "Wow, Courtney, I am interested in reading your book… but that cover! It is far too sexy for my bus ride. All the other people on my commute are going to look at that cover and then they will leer at me. Also, I can't read it at lunch, because my mostly male colleagues will rib me over it."
Hmph. Personally, I fail to see how a mostly-unclothed woman, lying on a divan in a provocative pose, could indicate anything except the highest of high-minded high-mindedness, and I think all those people who judge books by covers should be frowned upon. But, to be slightly serious for the only time in this entire blog post, back when I first started reading romance, I would take my books up to the cash register very carefully–sometimes even buying High Minded Looking books with sepia-toned factories belching smoke on the front to hide the clinch romance books I actually wanted to read as I walked up to the cash register. Even now, I won't whip out truly scandalous clinch covers in front of some of my older, male colleagues–their hearts just can't take the rise in blood pressure. So I totally understand how someone could look at this cover, imagine herself taking it out at lunch in front of a bunch of unsympathetic co-workers, and wincing.
Plus, one reader said that she teaches small children, and if she took a book like this out, they might start to get the Wrong Idea, and parents somewhere would complain. How could she possibly read my book? This was an excellent point, and it got to me to thinking about something I could do to help out with that problem, especially since there are children involved. (If you have not noticed, one of the things we take seriously here at courtneymilan.com is this: lying to small children.)
Here, for the first time, for your covering-up pleasure, is a downloadable book cover. Like all High Minded books, this is a cover done in sepia (although if your printer is black and white, it will print just fine in grayscale, and it will look appropriately bleak!). This is the book you have always wanted to carry on the subway: It declares that you are so smart that you're reading not for pleasure or enjoyment, but for the sheer thrill of scraping your fingernails across the chalkboard of literature. It can be read without hesitation in accounting firms or in kindergartens. Feel free to whip it out during dull moments at the New York Stock Exchange.
Here's what it looks like: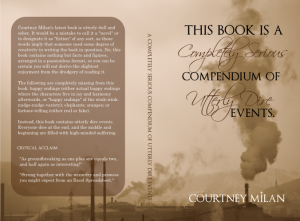 And here's how you use it:
What you need:
One printer; one internet connection; one piece of paper; four pieces of tape (optional); and one copy of Proof by Seduction (available here: B & N | Amazon | Indiebound | Borders | Powell's) (other books can be substituted, but really, why would you want to do that?)
Download the full graphic (warning: it's huge at around 4 MB) here. Print it out.
Fold on the white lines along the top side and the bottom side; then fold along the white lines on the right and left sides. This should form little pockets on the right and left side of the cover.
Jimmy the right pocket over the front cover of Proof by Seduction; wrap the cover around the book, and then jimmy the left cover over the back cover of Proof by Seduction.
For those who are extra-conscious of security, four pieces of tape can be used to make sure that the book cover does not come off.
The result: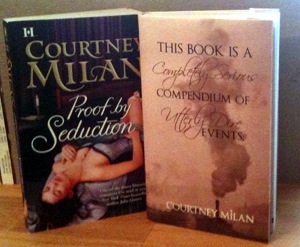 So, what do you think? Let me know–one random commenter will win a copy of A Completely Serious Compendium of Utterly Dire Events, as created using above method.