Hi everyone, and Happy New Year! It's January 1st, 2010, and that means…. YES! Proof by Seduction is officially out! You can buy it anywhere fine books are sold.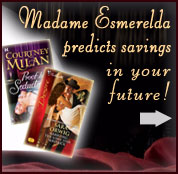 One of the places where fine books are sold is over at eHarlequin.com, where they are running a special promotion, in which Madame Esmerelda is making predictions. These are the best kind of predictions for a false fortune-teller to make, of course: one where the person making the predictions controls the outcome.
But there are other places to buy Proof by Seduction: Indiebound | Amazon | B & N | Powell's | Borders
And, as always, with any release, there will be more goodies here. For instance, later on this week, I'll be hosting what is quickly becoming an important tradition: Mr. Milan (yes, my husband) will be posting his review of Proof by Seduction. For those of you who missed it, Mr. Milan reviewed my novella, "This Wicked Gift." It was… interesting. (We were planning to have the post go live on January 1st, but an unfortunate incident in which his laptop was stolen seems to have prevented that).
There may be a couple of other surprises in store for today, too. You'll just have to wait and see!