Do you know the drill yet? Mr. Milan, a completely objective reviewer who just so happens to be my husband, reviews my books. I edit for length (that's it). This review is the result.
Hi everyone. It's Mr. Milan again. Usually I just review Courtney's books, but as you will see this is half review, half investigative journalism. You will understand the necessity for this when I reach the end.

As you may know, my past reviews of my wife Courtney's work have been, on the whole, negative. Not that I don't love Courtney. I do. It's just that as a book reviewer, I have to call them as I see them. With her past work, there just wasn't enough of the things that I liked to warrant a positive review.
Let me remind everyone where I'm coming from: I'm an avid reader of fiction, just not the kind of fiction Courtney usually writes. My tastes tend toward fantasy, sci-fi, and spy novels. I've read everything China Mieville's ever published, I have a whole shelf of Barry Eisler's books, and I'll even, if it isn't too vapid and mopey, read the occasional work of literary fiction (a good recent example is Wolf Hall by Hillary Mantel).
So, blessed (burdened?) with this background, I turned to Courtney's new novel, Trial by Desire. I read it from cover to cover.
As a reviewer I try to keep an open mind, but you do sometimes judge an author by her previous books.  I had certain expectations when I came to this book. I am sure you can guess what those are by my previous reviews and that's because you are judging me by those too. You are expecting me to say that this book sucked.
This book didn't suck.
I checked the front and the book was still a couple sharing a torrid embrace. I checked the name and it was still Courtney Milan. A less secure individual might next have checked his pants to see if his manhood was still intact.
You may be surprised by my less than wholly negative review. But you really shouldn't be. Trial was full of good action scenes, and they were well-written. The hero, Ned Carhart, isn't afraid to mix it up, and Courtney, to her credit, isn't afraid to write about it. Ned confronts rampaging horses, makes witty comments while held at gunpoint, and punches out the villain several times. He's actually a great hero. I can see why the heroine would admire him.
Especially because the heroine's not bad herself. Kathleen Carhart commands respect, because she's willing to stand up for what she thinks is right. And she's willing to risk more than just social humiliation or financial disappointment in order to win the man she loves. She's a lot like Ned–she'll face real danger if she has to, and that's cool.
This book had more action in it than William Gibson's latest book, Zero History. All of this made me wonder: what happened? How did someone who wrote the Sherman-Tank-deprived Proof by Seduction come up with a book that I enjoyed? This is where the investigative journalism part comes in.

Romance novels are often unfairly maligned for adhering to predictable formulae, the most common being the happy ending with the protagonists together in everlasting love. For me, that's not a problem. Many other kinds of genre fiction are just as predictable — when was the last time the sleuth in a genre mystery failed to solve the crime? Following a convention that defines the genre isn't cause for complaint.
Besides nobody knows more than me how hard Courtney works. I heard her swearing up a storm over this book. It wasn't easy for her to write. But I'm her husband, and I was around when she was working on this book. I have access to the notes that she keeps in boxes in the basement. And after reading the book and having that weird positive reaction, I just couldn't help but get suspicious.
It's not that Courtney used a formula to help her write this book. Before you read on, make sure you are sitting down and remove any small children from the vicinity because this might be disturbing.

Courtney actually used algebra.
I am writing this review at the kitchen table with a sheaf of papers spread in front of me filled with mathematical calculations that I am convinced are her deriving this book from first principles. I don't know how she did it, but here is a snippet of proof–and remember I have reams and reams of paper containing items like this.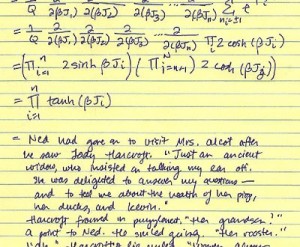 I hope you are as shocked as I am by this undeniable proof that Courtney is blatantly writing her books to a formula. I do have to admit that it is a very complicated formula and that she used a lot of them. I feel equally confident that other romance writers don't do this. Nonetheless it explains my initial positive reaction to this book.
My enjoyment of the book was dulled considerably by this discovery.
Three Sherman Tanks.




It's Courtney again. Thank you, Mr. Milan, for that…uh…very kind review filled with scurrilous lies.