Brief Edit: Okay, we're really up now!
Pull by B.A. Binns is one of the most powerful Y.A. books I've read all year.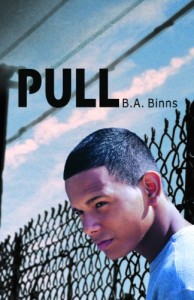 David, the protagonist (you notice I don't include his last name), is dealing with a lot for a kid in his senior year of high school. You see, a few months ago, his dad murdered his mother. His father's in jail, and David himself, as the eldest in the family, has gotten the job of keeping his family together. Without the money he makes from an after school construction job, his sisters and he would have been split up around the globe, sent to distant relatives, many of whom don't really seem to care about the family.
So David finds himself the man of his family, when he's not even a man himself. And David does not know how to deal with what has happened to him. He changes his last name. In part, so that people at his new school (one that's in a poor part of town, instead of the wealthier area where his parents used to live) don't recognize either his skill at basketball or his father's name. But in larger part, he doesn't want to keep his father's last name–just as he doesn't want to visit his father in jail, doesn't even call him "father" anymore.
But David's suffering from post traumatic stress disorder as a result of the murder. And he's struggling from a lot of things that feel absolutely real: He doesn't want to go to college, doesn't enjoy school, and does like girls–and as much as he likes them, he also blames them for the way they make him feel.
David is never a comfortable character, and he won't make you feel comfortable (especially if you, like me, wince at the thought of someone not getting an education). And that, I think is what makes this book so raw and powerful. It is simply too easy to believe that David is real. To buy into what is a complex mix of teenage anger and angst and hope and self-hatred and arrogance all at once–and even though those things sound contradictory, when David lets you know how it is, in his short, terse, no-nonsense style, it's real.
His character is so strong, so powerful, that even through (especially through) his terse denials, you can feel so much. I got more raw emotion from one of David's curt "I don't cares," delivered at the right time than I do from most books.
And just to give you a taste of what he's like, this from the first few pages of the book, after David has just had a traumatic flashback in the middle of gym class when the sound of the basketball hitting the court reminds him of a gunshot wound:
The gym teacher's whistle sounds, the shriek knifing through my ears. He runs over from the sidelines where he's been talking with another man while the inept group of students practiced passing the ball. His pale face holds wide, worried gray eyes. You'd think he'd never seen a guy downed by a basketball before. Probably hasn't been teaching in the inner city very long. Probably still has ideals and intends to do some good or something.

Probably needs to get the hell out of my space.
And that's David for you.
Like I said, this is not a comfortable book. But the day I got it, I was up until 1 AM reading, even though I had a 6 AM flight the next morning, and I got up half an hour early just so I could finish.
This book is seriously, utterly, powerfully compelling. And so I'm giving away a copy to one random commenter.