I'll be signing books at the RWA Literacy Signing at the Anaheim Convention Center, from 5 to 8 PM. I'll be at table 1000 (nice, easy to remember number!) so please come by and say hi if you're around!
Swag that I will have there: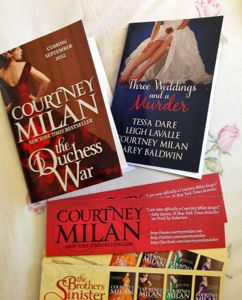 Mini-excerpt books for The Brothers Sinister (including a never-before-posted excerpt from The Duchess War, and a mention of something that I haven't mentioned online because I am afraid it might not happen), mini-excerpt book for Three Weddings and a Murder, awesome shiny bookmarks (the picture doesn't adequately show how shiny they are, and yet how not shiny where it matters! They are nonuniformly shiny!), and–not pictured–shot glasses.
Because if you can find me at RWA (here's the map) you deserve a drink. Alas; alcohol not included.