So even though it has been all over my website for months now, I have never actually Officially posted the cover for my anthology.  That is because any images I've put up here have been completely and utterly Unofficial. Not, of course, that I would ever post unofficial, bootlegged images that I got from someone other than my publisher. Ahem.
Apparently, there are niceties involved with final versions of bookcovers, most of which involve book buyers saying, "Oh, we like that cover, yes we do, and we will put it on our shelves!" or buyers saying, "No, ma'am, not that cover. It is not the cover we want."  (I've been told buyers do not speak in Dr. Seuss like rhythm though–who knew?)
In any event, this unveiling is totally anticlimactic, but I finally have the official cover, and it is different than the unofficial one that a very bad author (not me, of course) would have posted earlier.  Let me show you.
This is the old cover, which none of you saw: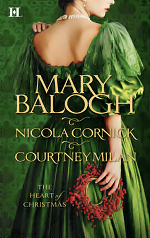 Okay, and if you're ready for it, this is the new cover!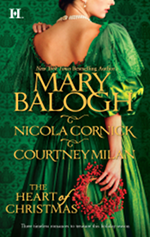 As you can see, the new cover is completely different. They've, like, tweaked the color balance and stuff.  They remembered that Mary Balogh is, in fact, a NY Times Bestseller. Also, they added this line of itty bitty white text at the bottom, and it says "Three timeless romances to treasure this holiday season.  If you look at a slightly larger version (click here), you can see that there is red in the lace on the back of her dress.
So there you go.  My massively changed cover. It's a good thing I never put up a bootleg version, or you'd all be confused by the changes!