alternate book covers


ometimes, romance readers realize that the covers that are used for their genre don't always leave a positive impression on people, who think that all the cleavage and skin signals that the books are little better than sexual romps. Now, I have nothing against sexual romps; nor do I have anything against people who read them. But I understand if my readers occasionally wish that my books had different covers.
Well, now your wish can be granted! Here are free downloadable bookcovers designed to convince people that you're reading boring, dry, dull, factual material instead of the fun romance you picked up!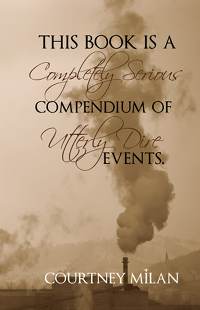 A Completely Serious Compendium of Utterly Dire Events
How to Use This Cover:
Download the full graphic (warning: it's 4 MB) here, and then print it (you may need to uncheck the option to scale to print to make the lines come out right).
Fold on the white lines along the top side and the bottom side; then fold along the white lines on the right and left sides.
Attach cover to Proof by Seduction!