Let me be clear: I think romance novel covers are AMAZING. They do such a great job communicating information like genre, heat level, whether anyone turns into a werewolf...
But not all people agree, and while we would all like those people to go gently jump in a lake, sometimes they are our bosses and we have to pretend for their sake.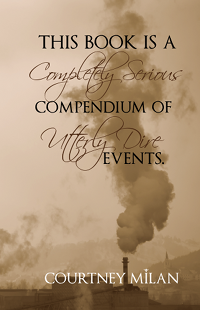 A Completely Serious Compendium
This cover is intended to be downloaded and printed. You may have to scale it up and make changes to make it actually fit your book.
This was intended to fit Proof by Seduction as a mass market, but it's not available in that format anymore. But you can download it here.